Venue & Hospitality
Hyatt Place Amsterdam Airport
Rijnlanderweg 800
Hoofddorp, Amsterdam,
Netherlands, 2132 NN
Conference Dates: February 27-28, 2017
Hotel Services & Amenities
Audio/Visual Equipment Rental.
Business Center.
Business Phone Service.
Complimentary Printing Service.
Express Mail.
Fax.
Meeting Rooms.
Office Rental.
Photo Copying Service.
Secretarial Service.
Telex.
Typewriter.
Video Conference.
Video Messaging.
Video Phone.
ATM.
Baggage Storage.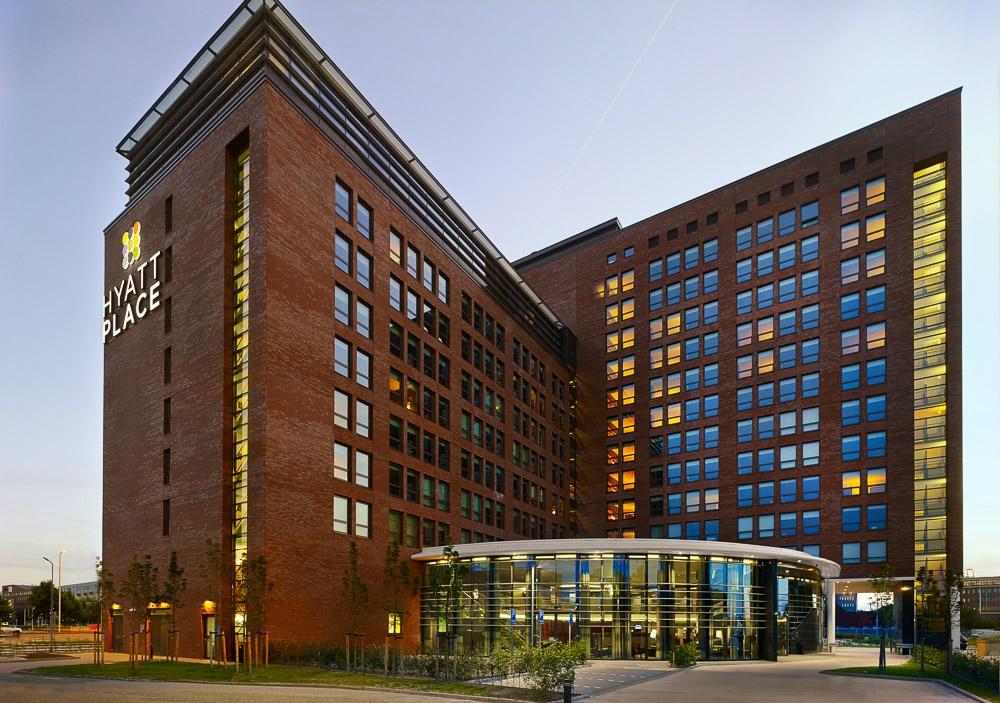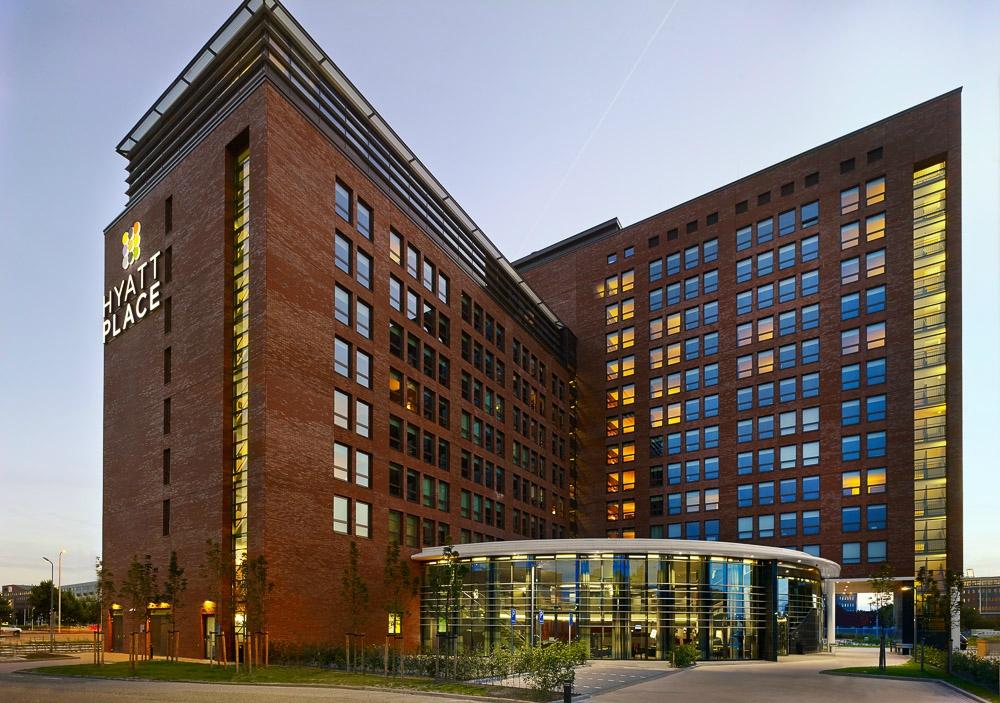 Transportation
Hyatt Place Amsterdam Airport
Schiphol Airport (AMS) - 5km from hotel
Directions to Hotel
When driving from Schiphol Airport to Hyatt Place Amsterdam Airport hotel take the A4 towards The Hague.
On the A4 take exit 3 Hoofddorp, after 1,7 km take a left to the N201 (Kruisweg).
You will find Hyatt Place Amsterdam Airport hotel on your right hand side.
Transportation Options
Airport Shuttle Service
Hyatt Place
Tel: +31205421234
Complimentary for hotel guests.
Available 6.30 AM – 11.30 PM
Available 6.30 AM – 11.30 PM
Please Note: The Hyatt Place Airport Shuttle bus departs from Arrival Hall 4. Report to the 'STA' desk (opposite the Starbucks and next to the AKO book store) and take a seat in the lounge. The driver of the shuttle will walk in to to check if any guests are waiting.
Airport shuttle service schedule

Departure time from the hotel

Departure time from the airport

6:30

7:00

7:30

6:45

7:15

7:45

8:00

8:30

9:00

8:15

8:45

9:15

9:30

10:00

10:30

9:45

10:15

10:45

11:00

11:30

12:00

11:15

11:45

12:15

12:30

13:00

13:30

12:45

13:15

13:45

14:00

14:30

15:00

14:15

14:45

15:15

15:30

16:00

16:30

15:45

16:15

16:45

17:00

17:30

18:00

17:15

17:45

18:15

18:30

19:00

19:30

18:45

19:15

19:45

20:00

20:30

21:00

20:15

20:45

21:15

21:30

22:00

22:30

21:45

22:15

22:45

23:00

23:15
Public Bus
R-Net, EBS, Connexxion
Tel: 0800 0327 or 0900 2666399
Cost: € 2,00 - € 4,00 (depending on day/night)
Available continuously during the day. At night every hour.
Train
NS
Cost: € 2,10
Available from 5.30 AM – 1.30 AM
Limo
On request via the reception
From €30,00
Taxi
On request via the reception
€15.00 – €20.00
Available 24/7
Car Rental Agencies available at the airport:
Hertz
Sixt
Avis
Europecar
Budget
Thrifty
Alamo
About City
Amsterdam
Amsterdam is one of the supreme small cities in the world. But it is also the Netherland's largest city, with a populace of more than 820,000, and the one of the most go to see city with over 3,5 million visitors a year.
Amsterdam's name originates from Amstelredamme, revealing of its origin as a dam of the river Amstel.
It is world famous for its canals, museums and historical sights.it is one of the most romantic and beautiful cities in Europe. Canal voyages are the popular ways to see the city from the perspective of its canals and also the sight scenes.
Amsterdam is known as a city of tolerance and diversity. It abstains all the leads of a big city which includes rich culture, lively nightlife, international restaurants and virtuous transport.
Amsterdam City Highlights
Amsterdam is the Netherlands' capital, known for its creative heritage, elaborate canal system and slender homes with gabled facades.Its deposit District homes works by Rembrandt Harmensz van Rijn and Vermeer at the Rijksmuseum, the painter deposit and trendy art at the Stedelijk. sport is essential to the city's character, and there square measure 400km of cycle methods.
The city has the very best deposit density within the world and is home to cultural highlights, love the painter deposit, Anne Frank House, home Dutch capital and also the Rijksmuseum with Rembrandt's world-famous Nightwatch. different accepted places of interest in Dutch capital square measure the Palace on the Dam, the Artis installation, soul Historical deposit and also the Rembrandt Harmensz van Rijn House.
Take a canal tour of Dutch capital and find out the historical canal district that was else to the UN agency World Heritage List in 2011. the simplest thanks to get around Dutch capital is on a motorcycle. You won't become any further native than by sport around Dutch capital.
Top Universities of Amsterdam
University of Amsterdam
VU University Amsterdam
University of Groningen
Leiden University
Maastricht University
Radboud University Nijmegen
Erasmus University Rotterdam
Tilburg University
Utrecht University
Delft University of Technology
Eindhoven University of Technology
University of Twente
Wageningen University
University of Curaçao
Nyenrode Business Universiteit
Kampen Theological University
Apeldoorn Theological University of the Christian Reformed Churches
University of Humanistic Studies
Associations in Amsterdam
Amsterdam has many associations which belong to various sectors and these associations aid in the growth of the state's economy by providing a lot of funding programs. Some of the famous and reputed associations to be mentioned are
International Child Neurology Congress
European Haematology Association
British Association of Paediatric Surgeons
Pan African Paediatric Surgeon Association
European Association for Cardio Thoracic Surgery
NETHERLANDS SOCIETY OF CARDIOLOGY PREPARES AMSTERDAM
European Urogynaecological Association
European Society of Human Genetics
Netherlands society of Cardiology
European Society of Gastrointestinal Endoscopy
European Confederation of Neuropathological Societies
International Convention of Psychological Science
An International Association of Medical Education
European Federation of Internal Medicine

Pharma and Biotech Companies and Industries in Amstedam
uniQure
SynCo Bio Partners
St. Jude Medical
Sanquin
Norgine
Lumenis
Kreatech Diagnostics
Kiadis Pharma
Avantium Pharma
Audion Therapeutics
AngioDynamics
APO-T
Axeq Technologies
Sun Pharmaceuticals Industries
Abbott Medical Optics
Norgine
Alexion
Solvay Pharmaceuticals
Wyeth Pharmaceuticals
Conferences In Amsterdam
European Breast Cancer Conference 9 to 11 March 2016.
11th Congress of the European Crohn's and Colitis Organisation (ECCO) 16 to 19 March 2016
Osteoarthritis Research Society International (OARSI) World Congress 30 March to 2 April 2017
European Society of Clinical Microbiology and Infectious Diseases 9 to 12 April
5th biennial conference of the European Society for Trauma and Dissociation (ESTD) 14 to 16 April 2016.
4th International Child Neurology Congress (ICNC) 1 to 5 May 2016
14th European Conference on Computer Vision 10 to 16 October 2016.
8th Multidisciplinary Colorectal Cancer Congress 2016, Amsterdam Amsterdam, Netherlands
ECCO2017: European Cancer Congress Amsterdam, Netherlands
4th International Conference on Nutrition and Growth Amsterdam, Netherlands
4th World Congress on Controversies in Pediatrics (CoPedia) Amsterdam, Netherlands
29th Congress of Pathology Amsterdam, Netherlands
Tourist attractions in Amsterdam
The Rijksmuseum
The Anne Frank Museum
The Van Gogh Museum
Oude Kerk
Dam square
Begijnhof
Rembrandt House Museum
The Royal Palace
Jordaan
Rembrandtplein
Leidseplein
Albert Cuyp market
The Stedelijk
The Port of Amsterdam
Kalverstraat and Vlooienmarkt
The Botanical Gardens & the Zoo